Perry found out today that they ARE running fiber (TV, telephone, internet) for our area. It should be up and running fall of this year. We had seen orange conduits here and there in the area and he wistfully wondered if they were fiber lines. So, he's all excited being the computer geek that he is.
Our dishwasher and microwave have arrived and are waiting in the garage for installation.

It looks like the painters have put on the final coat of paint on the trim.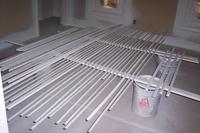 The garage entrance door has been painted.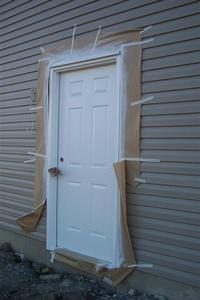 We dropped off the hall lights and the pendant lights for over the island, as well as the dimmer switches. (These were all added by us at the walk through with the electrician.) Now when the electrician comes back to install the lighting, he'll have everything.