Well day three of rain and it is now too muddy to enter the house. Well, except for Cherie. She happened to have the simplest of shoes that would not mind the mud, so the kids and I waited outside while she went in and took pictures.
The brick mason finished the garage wall and has started on the front door area. It is starting to look real good.

They have hung up several of the doors and also installed the trim to go with them. Others are just staged throughout the house.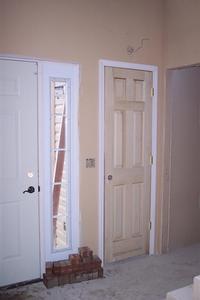 This would have been easier if the drive way had been poured.