Windows are in!!!! (Except for one casement in the kitchen which we knew about.)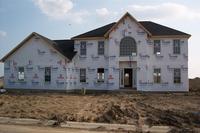 Exterior doors are also in!!! (Except for the large garage door & the door to the house from the garage.)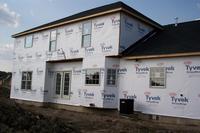 No locksets on yet, though - which is good, since we forgot to take our key with us.
2 windows need to be changed. The 2 side-by-side windows in the family room are vinyl on the inside, when all of the others are wood on the inside. Also, one of these two windows is a low-E and all of the others in the house are clear. Quite noticable right next to each other. (The window in the master bath is also low-E - supposed to be? OK either way as it's the only one in the room & we'll be putting something on it to make it a frosted look for privacy.)

The framers furred out a few walls that needed it.
The dryer vent is on (where it's supposed to be!).
All of the things we pointed out at the inspection yesterday have been taken care of & they cleaned up the first & second floors!!!
The only MAJOR concerns we saw - There was up to an inch of water covering the entire basement. It may have been due to the storm that went through yesterday & they just didn't pump it out? Maybe they've been pumping water out each time it rains & we just don't know about it? Also - it appears that someone was burning what appeared to be styrafoam & cardboard packing materials on the lot in front of the house. Could have been the window guys, but there's a dumpster right there? Perry called Mike & left a message (after hours) just to let him know about these issues & about the windows, so we'll find out more tomorrow.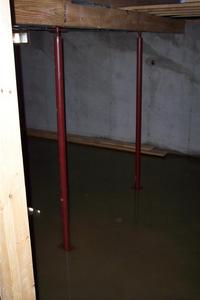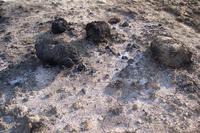 All in all, we're very pleased with everything.